HGR Girls Lacrosse Coaches
 Kristy Robertson – Girls Progam Director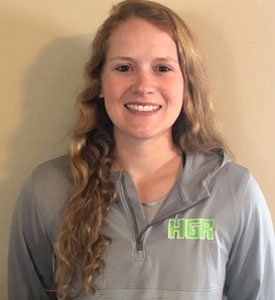 Assistant Coach at Endicott college September 2017- present.
Graduated from Haverhill High School in 2013 as a 4-year Varsity player
Leading goal scorer at Haverhill High School
Attended Southern New Hampshire for 1 year and then transferred to Umass Lowell for last 3 years of college
Served as a two-time captain- Division 1 lacrosse at Umass Lowell.
Graduated from Umass Lowell in 2017 with honors and a degree in Liberal Arts
2 year – Student Advisory Committee (SAAC) Rep at Umass Lowell
Volunteer Assistant coach for Haverhill High School Varsity Lacrosse in 2014-2017.
---

Jess Angerman – High School Coach
Assistant women's lacrosse coach at Emerson College.
Working for the Residency Program in the Department of Pediatrics at Boston Children's Hospital.
Coaching experience includes camps, private lessons, and showcases.
4-year player and 2-year captain at the University of Michigan.
Attended Shoreham-Wading River High School on Long Island, New York, winning 2 state championships.
Played club high school lacrosse for the Long Island Yellow Jackets
---

Clare Blomberg – High School Coach
Long Island Native
Graduated from Merrimack College in 2017 where she served as a Captain
She played alongside her sister, who graduates in 2019.
When she graduated she got a job as a Healthcare Admin at Boston Children's Hospital
---

Shannon Moskowitz — 2023 Coach
Junior Defender at DIII Endicott College
Before Endicott, she played 4 years at Thornton Academy where she served as a captain
2014 /2015 runner ups – Western Maine Champions
Has coached with Saco Bay Club Lacrosse as well as worked many camps/clinics
Liberal Arts Major
---

Emily Mott — High School Coach
4-year starter at the University of Mary Washington ('17 graduate)
2-year Captain; helped lead team to 2 NCAA tournament appearances ('16, '17)
4x All-Region, 4x All-CAC, 2nd Team All-State Midfielder
Coaching experience:

Volunteer Assistant Coach at UMW (Fall '17 season)
Coached high school level for Long Island Top Guns Lacrosse Club under Hofstra Head Lacrosse Coach Shannon Smith

All-Division Lacrosse and All-State Field Hockey at Miller Place High School ('13 graduate)
---

Sarah Waldrep – 2023 Coach
Currently Captain of Division II lacrosse at Franklin Pierce, 3-year starter as a defender/mid
Awards: Letter winner at North Andover High School, All-League selection as a senior & Two-time unsung hero award, two-year letter winner in soccer at North Andover.
2016 North Andover High School state championship runner-up
A health science major.
---

Catie Walsh – Youth Gold Coach
HGR Coach Summer 2019, Assistant Fall 2017
Played 4 years as a Defender at Saint Anselm College (DII)
Graduated Saint Anselm College in 2016 with a Liberal Arts & Business Degree
Volunteer Assistant Coach for Cheverus High School 2013, 2014
Played 3 years and was team Captain at Cheverus High School (ME), 1 yr at Norwell High
Awards: Cheverus High School Coaches award 2012
Currently working as an Account Manager for Carbon Black in Waltham, MA
---
Brittany Whiteway- High School Coach
Current varsity girls lacrosse coach for Billerica Memorial High School.
Brittany played lacrosse for Billerica MHS and served as Team Captain.
She played 4 years as starting defender at Southern New Hampshire University (DII).
---