HGR Girls Lacrosse Coaches
 Kristy Robertson – Girls Progam Director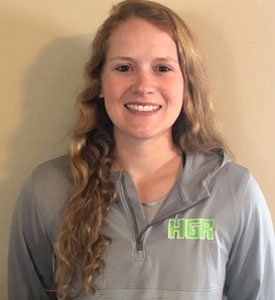 Assistant Coach at Endicott college September 2017- present.
Graduated from Haverhill High School in 2013 as a 4-year Varsity player
Leading goal scorer at Haverhill High School
Attended Southern New Hampshire for 1 year and then transferred to Umass Lowell for last 3 years of college
Served as a two-time captain- Division 1 lacrosse at Umass Lowell.
Graduated from Umass Lowell in 2017 with honors and a degree in Liberal Arts
2 year – Student Advisory Committee (SAAC) Rep at Umass Lowell
Volunteer Assistant coach for Haverhill High School Varsity Lacrosse in 2014-2017.
---

Clare Blomberg – High School Coach
Long Island Native
Graduated from Merrimack College in 2017 where she served as a Captain
She played alongside her sister, who graduates in 2019.
When she graduated she got a job as a Healthcare Admin at Boston Children's Hospital
---

Cara Corvino — Youth Coach
Originates from Dorset, Vermont where she grew up playing lacrosse.
Graduated from Stonehill College in Easton, MA in 2017 majored in Communications
Captain of the Women's Lacrosse program in her senior season
Named a two time All American at Stonehill
Currently resides in Boston where she is a Customer Success Manager.
She enjoys traveling and staying involved in the game of Lacrosse
---

Taylor Shannahan, Youth Coach
Originally from New Jersey and currently lives in Brighton, MA
 Graduated from Stonehill College in 2018 where she played both soccer and lacrosse
 Currently works for W.B. Mason as a Recruiter
---

Catie Walsh – Youth Gold Coach
HGR Coach Summer 2019, Assistant Fall 2017
Played 4 years as a Defender at Saint Anselm College (DII)
Graduated Saint Anselm College in 2016 with a Liberal Arts & Business Degree
Volunteer Assistant Coach for Cheverus High School 2013, 2014
Played 3 years and was team Captain at Cheverus High School (ME), 1 yr at Norwell High
Awards: Cheverus High School Coaches award 2012
Currently working as an Account Manager for Carbon Black in Waltham, MA
---
---